Edisonfan wrote:
Maybe I should have been more specific, with my last point. I meant I can not seem to find certain records. "Yes, We Have no Bananas" for example, or "Monkey Honeymoon", "Tin Pan Parade". I have only one place to buy 78's, but they are bit expensive.
Paul,
I did a cursory search on eBay for you, and came up with the following: "Tin Pan Parade" (eBay Item #
380091738598
—'Buy It Now' price of $15.00 + $2.93 shipping), Victor (Orthophonic) 21149 by The Troubadours (which only 9 people had viewed)—and you can get the sheet music both by Gillespie & Whiting, 1927 (eBay Item #
350154239679
) [currently $2.95 with $2.00 shipping in the U.S., after
0
bids] and by Ford & Glenn (eBay Item #
350156260757
) [currently AU $0.99—approximately US $0.64, with US $7.78 shipping, again after
0
bids].
The latter seems like a better deal for
Shane
. There are currently 16 results for "
Yes, We Have No Bananas
" (big surprise, right?), but none of them are 78s, and I have no clue whether you would want it on a 45 or to have the sheet music (which is significantly more expensive than the former 2 items).
John
offered you some good advice while I was writing this up (above), and he put it better than I could, so I will not even try to echo his suggestions.
I thought these were rather interesting to see (and this is probably my first sheet music transparency), so: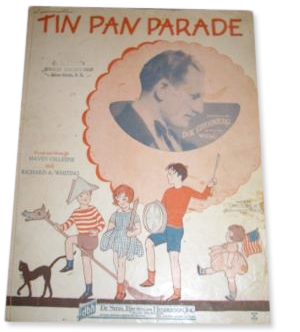 I think you can do better than $15 for that record, so you may just wish to keep watching until you find a better deal, unless you are really hot to have it now. I'll try looking more later, although you may wish to remind me periodically.
Your friendly internet
daemon
,
Mord
E
th