I
had mentioned previously
that we can now prettily embed YouTube videos here at our new home, as I have recently added the
[youtube]
tag. Here is an easy tutorial on how to embed a video, using the button above the composition box (where you type your messages).
First, copy the
URL
to the video and paste it into the composition box:


(In this example, I the video was linked from the channel page, and has '&feature=channel_page' after the video ID.)
You want to highlight and
delete the ampersand ('&') and anything after it
:


(We only want to have the URL to the video ID.)
And then hit the
Delete
or
Backspace
key so that this remains:


(Depending on where on YouTube you copy the URL from, you might actually be starting after the step above, because your video URL may not have the '&...' text.)
Next we want to highlight the entire URL: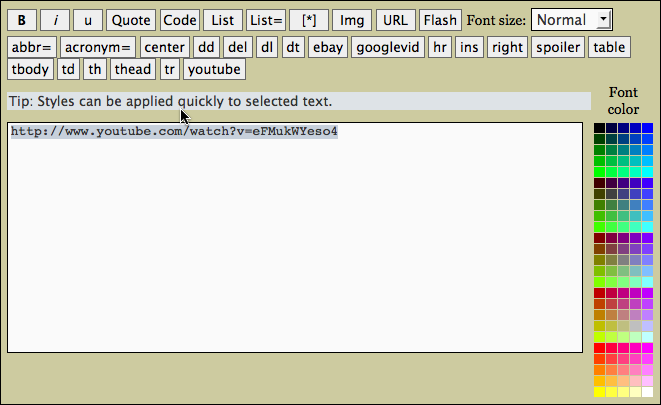 ...and click the
[youtube]
button: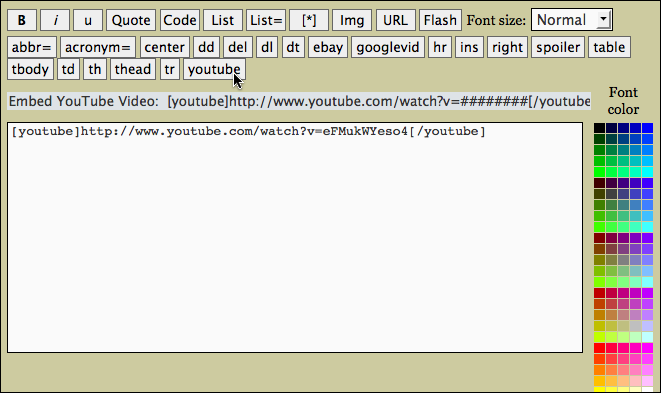 The final result looks like:
And unlike how things were at ProBoards—there's no advertisements here (and we have the explanation line below it, because I do not think anyone was aware that you could double-click the video).

As always, use the contact links below my post or on my profile if you have any questions, or I an assist you in any way.
— MordEth