There are two ways you can add additional users to a private message (or select to whom you are going to forward a private message).
The first is to pick from your friends list (and you can users as friends from their profile page):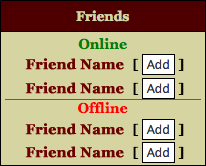 Just click the add button next to a user's name.
Otherwise, you can type a user name (or add a group if we ever start using groups—the spammer's group is empty, but was made in case we had members whose posts should be moderated before going live):
Either type a name under 'Usernames' or click a group and use one of the Add buttons.
BCC
and
To
work just as they do with e-mail. If you are not sure of the member's user name, you can use the
[ Find a Member ]
link.
You can also use the same method to select to whom to forward a private message.
Also, note that if you click the
PM
button under a post, it'll automatically quote that post into a private message for you.
As always, if you have any questions, please let me know so that I can assist you.
— MordEth