Fredrik wrote:
I can only blame my employer.
Fredrik,
I bought a bunch of Mozilla shirts to wear to work when my employer was doing the same—which was amusing because at the last trade convention that I attended it resulted in someone thinking I worked for the Mozilla Foundation (the group responsible for
Firefox
).
Of course, our desktop tech gave me admin on my machine there quite a few times, so one of them I went ahead and installed
Firefox
(even though we were supposed to use Internet Explorer).
I will stop ranting about browsers now, and instead let me present the transparent version of Steve's stunning Pathé Pathéphone—Modèle E: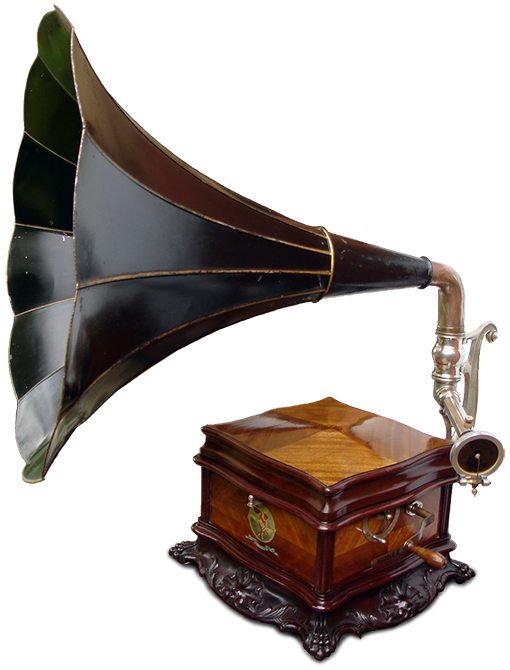 Here is the before image: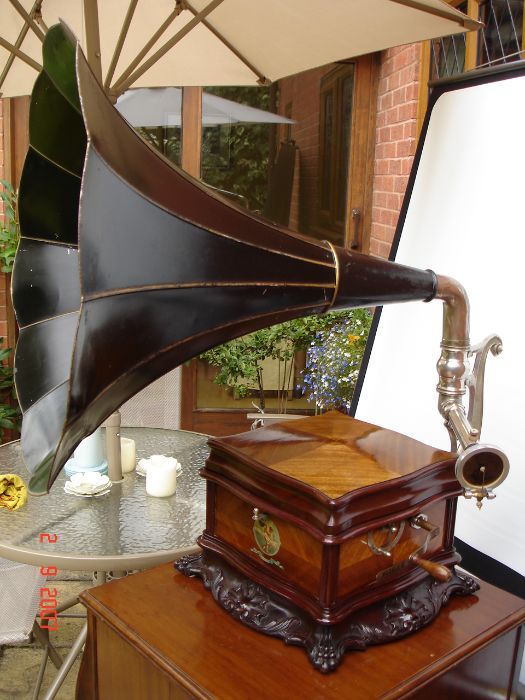 Maker



Pathé Frères



Model



Pathéphone — Modèle E



Serial #



Unknown



Years



1906-1910



Original Cost



275 Francs (not sold outside France to the best of my knowledge)



Case/Cabinet size



(to be confirmed)



Turntable/Mandrel Size



11"



Reproducer/Soundbox



Ebonite closed type mica diaphragm. The one shown is an "upgrade" for playing purposes and a "Concert" type with all aluminium body. I do have the original soundbox stowed away safe somewhere!



Motor



1 very large single spring motor



Horn Dimensions



24" diameter or 60cm to be more accurate



Repo Parts



none



Current Value Mint



According to Phonogalerie (Paris) a machine like this with same (original) horn would fetch approx. 3000 Euros on the open market.
Interesting Facts
A similar machine has been spotted, sold by Phonogalerie. The "twisty" aluminium horn on the other example is referred to as "Pavillon Torsade" and considered a Holy Grail amongst European collectors. Although undeniably plainer, my horn featured here is the correct original horn for the machine and shows it as it was originally sold, a factor which makes this one of my personal favorite machines.
Favorite Characteristic
I like the detached or loose lid which was a great idea to protect the platter when not in use. Not surprisingly they are an incredibly rare survival on this machine.
Pathé Frères "Pathéphone — Modèle E". A Pathéphone was just Pathé's name for a disc talking machine in contrast to the company's earlier cylinder machines.
The first disc playing Pathé machines were introduced in 1906 with a range consisting of the Modèles: A, B, C, D & E with "E" being the top-of-the-range machine.
The Modèle A was a simple affair with plain box and a horn directly connected to reproducer with a rubber tube similar to a cylinder machine. The horn was suspended on a travelling arm made from alloy and similar to the Victor / Columbia types, albeit a lot smaller. The Modèle B had an identical case and motor but used a tone-arm and back-bracket (more advanced) to connect horn to soundbox. This type is obviously the most common pattern of machine type you will see everywhere.
The Modèle C was similar to the A in as much as it had the travelling arm arrangement BUT it had a bigger motor and a more decorative case and lid. The Modèle D was to the C what the B was to the A! Still with me? So the D had tone-arm back-bracket but the better case and motor. Not surprisingly as we progress from A - D, the price rose considerably. So what is the "E" then? Well, the "E" was literally a wealthy man's extravagance. It was essentially the basis of the D model but in an even more elegant and luxurious case AND a much bigger horn as standard. Whilst the D could be had with a 20" horn (metric approximate), the E came with a 24" as standard.
The motor I believe is a Paillard and capable of playing 2 sides of an 11" disc at speeds up to 110rpm! There are no markings on it but it is thought that Paillard made these especially for Pathé and it is very nice quality although fairly conventional and typical of its type.
The first version of these tone-arm machines had a strange almost goose-neck like bend in the back of the arm where it met the back-bracket. This straight arm version probably dates from 1908-ish. In 1910 Pathé introduced a completely new (and much expanded) range of machines and these models were superseded.
Note:
All information courtesy of Steve. I just typed it up and made it look pretty. I expect that sooner or later this Featured Phonograph will make its way back here.
— MordEth