stetam wrote:
Stopped in an antique mall today and they had a few boxes of 78's. I spoke to the lady working and she said "They don't sell so I can have them for free". I obliged:)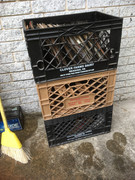 ...and that is how you came to have a
complete set
of World's Greatest Music albums!

OK, kidding aside, well done. I hope you got some real treasures in that lot. And in point of fact those unloved WGM sets have some wonderful music-making on them; a year or so ago I actually did a project to transfer them (yes, I have a complete run) and their companion World's Greatest Opera sets, and I was struck by just how well recorded and performed most of them were. As my mother used to say about dandelions, "If they weren't common, people would pay big money to own them."